Travel Tips for London, Paris & Italy
My good friend Krissy recently reached out for travel tips for London, Paris & Italy which I absolutely love to give.
Here's the question Krissy asked: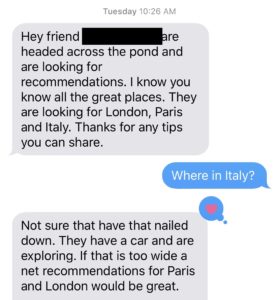 Here's the travel tips for London, Paris & Italy I shared with Krissy & her friends.
On London Travel Tips & Advice
London is overwhelmingly large and spread out to me. Rather than pick a hotel and go from there, I would give some thought to the experiences you want to have in London and then pick a hotel close to the Tube and nearby the things you want to do. I typically stay in SOHO in the West End.
A few sites worth seeing: tour the houses of parliament (buy tickets in advance!), tour Buckingham palace (buy tickets in advance – only summer I believe), and Churchill War Rooms.
It's worth seeing what shows are in town when you visit — I've seen some really interesting start-up plays at Young Vic which is known for more innovative work.
My go to restaurant in Paris is Dishoom which is a welcome-all, Irani Cafe style, Indian inspired restaurant. They have several outlets — go there and have a bay leaf old fashioned for me.
If you're going to Italy, this may not be for you. But, I had one of the best meals of my life at Bocca di Lupo which has food from 20 regions of Italy. I was a bit overwhelmed by the menu. I asked the waiter to treat us like family and he did. We left very full and very happy.
If I were headed back there soon, I might check out Quality Chop House/Quality Wines, Noble Rot, or Blacklock Soho.
London to Paris (and vice versa) is an easy 2.5 hour train ride on Eurostar.
On Paris Travel Tips & Advice
My big list for Paris is attached.
Paris is organized as arrondissements which numerically fan out like a snail. I always recommend staying in the 1st through 3rd arrondissements for access to museums, major attractions, and fun. My personal preference is to stay in Marais near the river in the 3rd.
Georges restaurant at the Pompidou Center is a really beautiful way to start a trip in Paris. It's fine dining, the waiters are used to an international crowd, and the restaurant & its terrace have beautiful views of Paris.
I like some of the more hardy, French country-side food. For the food and the hospitality, one of the restaurants I'll go back to over and over again is Le Cinq Mars in the 7th Arr. Some friends of mine went to their sister restaurant, Derrieire, in the 3rd and also loved it.
I wouldn't miss the opportunity to have a wine / cheese / sandwich picnic on the steps of Sacre Coeur at sunset. It can be very busy but it's totally worth it. There are plenty of places to pick up cheese, sandwiches and wine nearby
On Italy Travel Tips & Advice
Visit Rome and see the Vatican. Do not try to tour the Vatican alone — I think the museum has 11 miles of halls and the lines to get in without a guide can be 1 to 1.5 hours. Definitely hire a tour guide. Others have recommended the train tour which is not something I've done.
Here are some tour guide options:
Some friends rented a car to see Italy recently and absolutely loved it. They recommended https://www.sixt.com/ and made note that many city centers do not allow cars without taxi or tour guide permits. If you rent a car, be sure your hotel or AIRBNB has a parking option.
I've never gone south from Rome in Italy — Sorrento, Naples, Capri, etc. I think it would be amazing; I just haven't had the opportunity yet.
I will say that Florence & Tuscanny is one of my favorite places on earth. It's a 1.5 hour high speed train from Rome. My go-to source of information for Florence is Girl in Florence:
What recommendations do you have for Krissy's friends?